Press room
Lidango exhibits at dmexco 2012
12 - 13 September, 2012 Cologne, Germany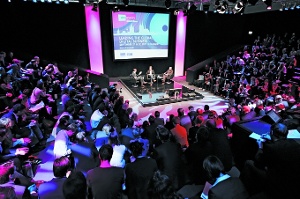 As a leading-edge affiliate marketing network, Lidango participated in this year's largest International Digital Marketing Conference. Dmexco 2012 is shaping the digital marketing stage, and under the motto "The Digital Transformation: Shaping Models - Creating Business" is drawing together the marketing industry's most inspirational and influential executives.
Boasting even more first-class professionals from the marketing business, dmexco responds to the radical challenges posed by the ever-changing landscape of online marketing with outstanding range of ideas. Also praised for its holistic approach, dmexco has become a compass for the online ecosystem, providing unparalleled scope within the digital economy.
The lectures revolved around the themes of multiscreen commercialization, ambient intelligence, new consumer engagement, Smart TV, ad trading/RTB, digital creativity, mobile marketing, brand building, big data, social media and local commerce.
The speaker line-up featured brand-pioneers: David Karnstedt (Adobe), Neal Mohan (Google), Paul Adams (Facebook), Omid Ashtari (Foursquare), Michael Barrett (Yahoo!), Jeff Levick (Spotify), Ilja Segalovich (Yandex), Mark Kirschner (Rakuten), Ned Brody (AOL) and Lisa Utzschneider (Amazon).
Lidango presented exclusive creative solutions for improving consumer engagement, brand building commercialization, tracking technology, ROI and contextual advertising. Lidango professionals are set to build upon the lessons and opportunities provided by the conference to offer their clients with the highest quality of services.